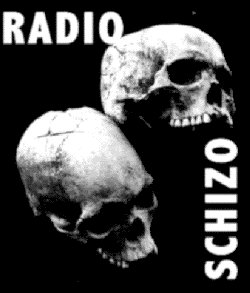 Many of you might remember my Radio Schizo podcast - http://www.radioschizo.org

February 28, tomorrow, Friday night, 5 PM - 7 PM, Central Standard Time, Kaos Radio, locally 95.9 FM in Austin, will broadcast "In The Throws of Resistance," an underground DIY hc/punk/garage radio show, half of which will be hosted by yours truly under the Radio Schizo aegis.

You can listen online @ 5 PM - 7 PM CST, FRIDAY NIGHT @ http://www.kaosradioaustin.org/

They did a Bill Hicks tribute last night.

I'm going to try to podcast-archive it. If anyone is on a Mac and wants to "tape" it to their hard drive using Audio Hijack or something, that would rock.

In any event, I will try to cover a lot of ground between what I consider 'real' MODERN (post-2001) hc/punk and stuff that links it to the culturally subversive rock 'n roll, garage rock, etc., tradition at-large.

Cheers!